A gmail email address is not the most professional way to deal with clients and customers. Are you using a gmail or other such email account? Many business owners do that because other website services don't even offer this service, and if they do it's too difficult to set up.
We at Wrkmash think that's just wrong. If you paid for your domain and pay for a website you should never have to communicate with your customers with a gmail or hotmail account. So domain based email is included with all our service packages.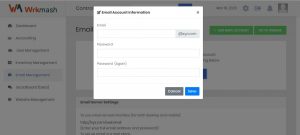 Our email service is easy to set up, secure and can be used on any platform. Just go to the Email Management section of your Control Panel, create the email addresses your business needs and start using them.

You can send and receive emails via our web interface (just go to yourdomain/webmail and log in with your email and password) or by configuring an email client on your computer or phone, and communicate with your customers securely from anywhere. Your email also comes with Spam Assassin so you don't get inundated with unwanted spam emails.